North Rosedale Park Playground Rescue Campaign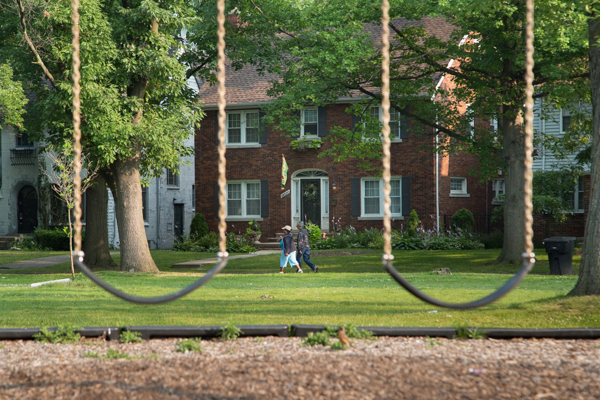 Playground Rescue Campaign
Bring our playground dreams to life, help us create a playground for all!
North Rosedale Park's Community House playscape has long provided a safe and welcoming environment not only to our immediate neighbors, but to the larger Detroit community.
We want to continue that mission, and also expand it to include as many Grandmon Rosedale residents as possible. This playground is privately owned and maintained by the NRPCA and we welcome everyone to enjoy it. Because we do not rely on city funds to keep it beautiful, we need your help. We want our families and business partners to have a wheelchair-accessible site and space for disabled and sensory-sensitive children to experience the joys of play.

Why?
According to U.S. Census estimates, as many as 877 children in the 48223 and 48219 ZIP codes are living with a disability. Anecdotally, our families and community business partners have expressed a need for accessible play spaces.
How?
Through grants and fundraising,the North Rosedale Park Civic Association will be upgrading the playing surface in spring 2019 with a combination of ADA-compliant engineered wood and poured rubber to permit access by physically-challenged children to existing equipment.
NRPCA has raised the $26,000 required to excavate the entire 7,500 square foot playscape surface and provide for 12 inches of compacted engineered wood fibers. This work will remove the invasive thistle weeds, cover the surface to suppress new weeds, and provide a more resilient surface.
Your contribution will help ensure the next phase of this project:
the purchase of ADA-compliant equipment, including an accessible swing seat and "cozy cocoon" for children with special needs

removal of a non-code compliant structure; and

installation of 900 square feet of poured-in-place rubber surfacing to enable wheelchair-dependent children independent access to existing and new equipment.
Please, donate today to help us create lasting memories and foster friendships for people of all ages and abilities. This playground belongs to all of us and a contribution in any amount is welcomed and appreciated. Your donation will change lives in this community and will allow people from other communities to come to North Rosedale Park for an amazing play experience. Our goal is to raise $24,000.
NRPCA is as 501C3, so all contributions are tax deductible. Thank you so much in advance!! Checks can be mailed to the community House, 18445 Scarsdale, Detroit, Michigan 48223.